&nbsp&nbsp&nbsp&nbsp&nbsp&nbsp
Buy your house in our Mint App.
Check our NFT Collection on Open Sea.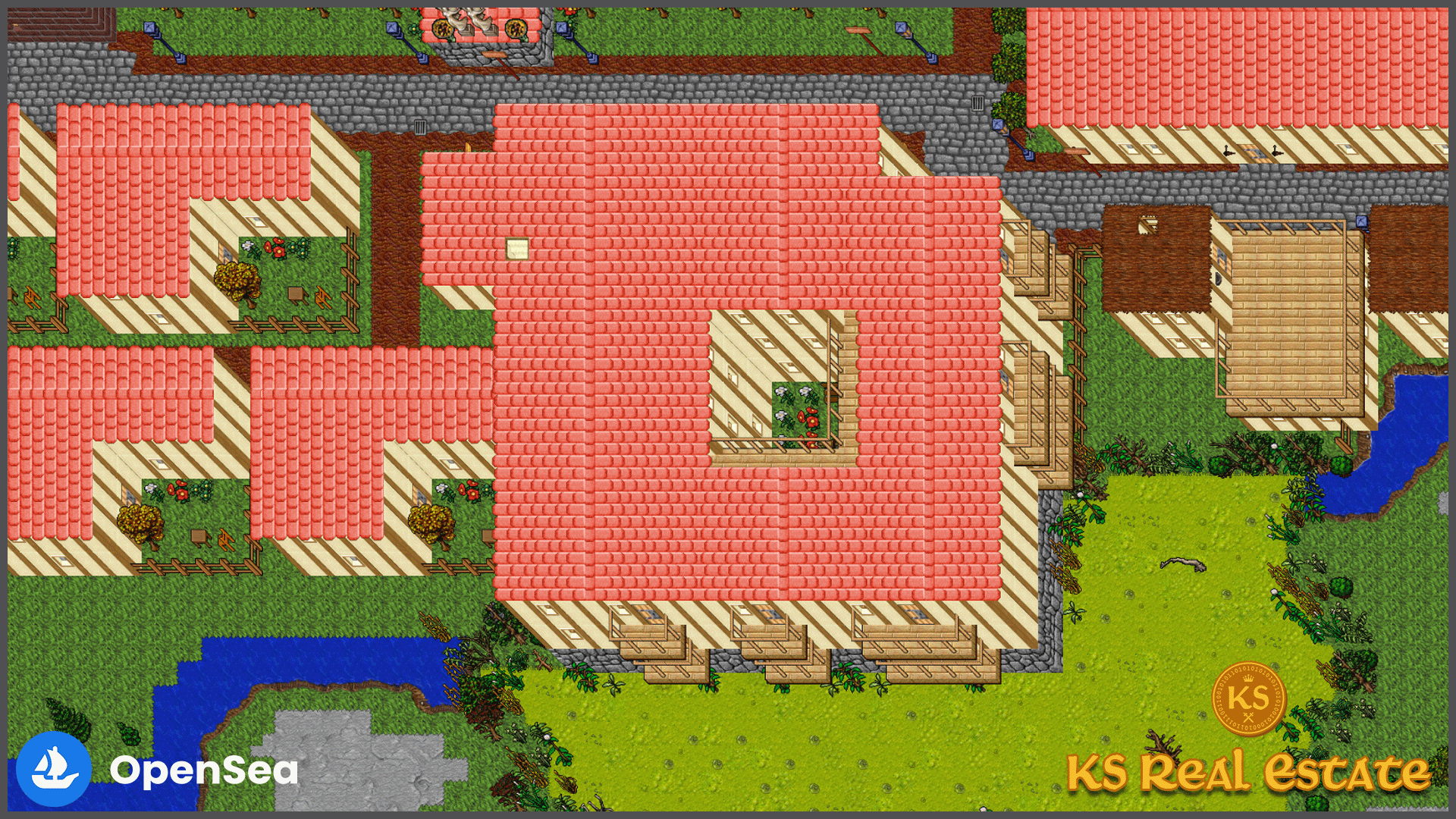 How Real Estate works:
In Kingdom Swap, you have the possibility to buy houses scattered all over the map. The houses have different sizes and location.
House owner privileges:
Sleep in beds while offline to increase your mana and health.
Get 10% bonus if you convert your gold coins inside your house.
You can store as many items as you want inside the houses.
There is no house limit per player, you can have as many houses as you want in your wallet.
Houses are also a speculative asset, as the minting price is the same for all, you can get a highly prized piece of proprerty for a low price. There are only 861 houses available for the minting price (15 MATICS).
After all the houses are sold, you will only be able to buy one house in the OpenSea secondary market, that is, purchase from another owner.
When buying/selling a house, you will only have access to it on the next server save (10:00 am UTC).
You must remove all your belongings from the house when selling it. Items will not be automatically sent to your depot.
There is no house rental for gold coins. Once you've bought a house, it's yours until you decide to sell.
To buy a house, you need to have MATIC in your wallet. We chose Polygon Blockchain, as it is accepted on the largest NFTs Marketplace in the world (OpenSea), and has very low fees at the time of transactions, to lower the cost for players.
Each house can be minted for 15 MATICS, you can mint up to 5 houses per transaction.

---
How to add Polygon Network to your Metamask:
Link
How to mint:
Connect your wallet in our minting app (make sure to connect your Metamask to Polygon Network).
Select the amount of houses you want to mint.
Click on mint houses and accept the transaction on Metamask.
Your houses will be available instantly on OpenSea and in-game on the next server save.
How to send Matic to your Metamask from Binance:


---
House owner's wallets:
| Name | Owner |
| --- | --- |
| Greenshore Clanhall | Bootlegsolutions |
| Greenshore Village 7 | Bootlegsolutions |
| Greenshore Village 6 | Bootlegsolutions |
| Greenshore Village 5 | Bootlegsolutions |
| Greenshore Village 4 | Osteb |
| Greenshore Village 3 | Satanas |
| Greenshore Village 2 | Satanas |
| Greenshore Village 1 | Satanas |
| Greenshore Village, Shop | Satanas |
| Greenshore Village, Villa | Samurai |
| Castle of Greenshore | Emrys Of Carmarthen |
| The Tibianic | Emrys Of Carmarthen |
| Fibula Village, Villa | Zoco |
| Fibula Clanhall | Amalero |
| Fibula Village, Bar | Zoco |
| Fibula Village, Tower Flat | Zoco |
| Fibula Village 5 | Blecaute |
| Fibula Village 4 | Heike |
| Fibula Village 3 | Heike |
| Fibula Village 2 | Larissinha |
| Fibula Village 1 | Skol |
| Guildhall of the Red Rose | Harryputto |
| Mercenary Tower | Harryputto |
| Harbour Place 1 (Shop) | Velostao Vermelho |
| Harbour Place 2 (Shop) | Harryputto |
| The City Wall 1b | Danko Kina |
| The City Wall 1a | Emrys Of Carmarthen |
| The City Wall 3f | Morgan Le Fay |
| The City Wall 3e | Thiago Taw |
| The City Wall 3d | Mikasa |
| The City Wall 3c | Harryputto |
| The City Wall 3b | Harryputto |
| The City Wall 3a | Harryputto |
| The City Wall 9 | Harryputto |
| The City Wall 7h | Muttant Myth |
| The City Wall 7g | Im Back |
| The City Wall 7f | Honeybedger |
| The City Wall 7e | Honeybedger |
| The City Wall 7d | Zapdozz |
| The City Wall 7c | Im Back |
| The City Wall 7b | Marlborillo |
| The City Wall 7a | Xbanos |
| The City Wall 5f | Charbell |
| The City Wall 5e | Marlborillo |
| The City Wall 5d | Bolsonaro |
| The City Wall 5c | Sathoz |
| The City Wall 5b | Aragorn |
| The City Wall 5a | Aragorn |
| Mill Avenue 5 | Cryptovechkin |
| Mill Avenue 4 | Cryptovechkin |
| Mill Avenue 3 | Rajadex |
| Mill Avenue 2 (Shop) | Gianini |
| Mill Avenue 1 (Shop) | Rajadex |
| Main Street 9b, 2nd floor (Shop) | Ursinho Blaublau |
| Main Street 9a, 2nd floor (Shop) | Gorilla Roxo |
| Main Street 9, 1st floor (Shop) | Kaio |
| Warriors Guildhall | Lordz |
| Farm Lane, 2nd Floor (Shop) | Balathorr |
| Farm Lane, 1st floor (Shop) | Razow |
| Farm Lane, Basement (Shop) | Honeybedger |
| Thais Hostel | Swapswap |
| Harbour Street 4 | Wunderlands |
| Thais Clanhall | Wunderlands |
| Sorcerer's Avenue Labs 2f | Emrys Of Carmarthen |
| Sorcerer's Avenue Labs 2e | Emrys Of Carmarthen |
| Sorcerer's Avenue Labs 2d | Emrys Of Carmarthen |
| Sorcerer's Avenue Labs 2c | Emrys Of Carmarthen |
| Sorcerer's Avenue Labs 2b | Emrys Of Carmarthen |
| Sorcerer's Avenue Labs 2a | Honeybedger |
| Sorcerer's Avenue 5 | Honeybedger |
| Sorcerer's Avenue 1c | Honeybedger |
| Sorcerer's Avenue 1b | Honeybedger |
| Sorcerer's Avenue 1a | Emrys Of Carmarthen |
| Upper Swamp Lane 12 | Emrys Of Carmarthen |
| Upper Swamp Lane 10 | Emrys Of Carmarthen |
| Southern Thais Guildhall | Emrys Of Carmarthen |
| Upper Swamp Lane 8 | Emrys Of Carmarthen |
| Lower Swamp Lane 3 | Emrys Of Carmarthen |
| Lower Swamp Lane 1 | Emrys Of Carmarthen |
| Upper Swamp Lane 4 | Emrys Of Carmarthen |
| Upper Swamp Lane 2 | Captain Hook |
| Alai Flats, Flat 28 | Emrys Of Carmarthen |
| Alai Flats, Flat 27 | Wunderlands |
| Alai Flats, Flat 26 | Wunderlands |
| Alai Flats, Flat 25 | Ratasr |
| Alai Flats, Flat 24 | Cryptovechkin |
| Alai Flats, Flat 23 | Cryptovechkin |
| Alai Flats, Flat 21 | Cryptovechkin |
| Alai Flats, Flat 22 | Cryptovechkin |
| Alai Flats, Flat 18 | Cryptovechkin |
| Alai Flats, Flat 17 | Cryptovechkin |
| Alai Flats, Flat 16 | Cryptovechkin |
| Alai Flats, Flat 15 | Cryptovechkin |
| Alai Flats, Flat 14 | Cryptovechkin |
| Alai Flats, Flat 13 | Cryptovechkin |
| Alai Flats, Flat 12 | Honeybedger |
| Alai Flats, Flat 11 | Honeybedger |
| Alai Flats, Flat 08 | Honeybedger |
| Alai Flats, Flat 07 | Cryptovechkin |
| Alai Flats, Flat 06 | Cryptovechkin |
| Alai Flats, Flat 05 | Cryptovechkin |
| Alai Flats, Flat 04 | Cryptovechkin |
| Alai Flats, Flat 03 | Cryptovechkin |
| Alai Flats, Flat 02 | Cryptovechkin |
| Alai Flats, Flat 01 | Cryptovechkin |
| Beach Home Apartments, Flat 16 | Cryptovechkin |
| Beach Home Apartments, Flat 15 | Cryptovechkin |
| Beach Home Apartments, Flat 14 | Cryptovechkin |
| Beach Home Apartments, Flat 13 | Cryptovechkin |
| Beach Home Apartments, Flat 12 | Cryptovechkin |
| Beach Home Apartments, Flat 11 | Cryptovechkin |
| Beach Home Apartments, Flat 06 | Cryptovechkin |
| Beach Home Apartments, Flat 05 | Cryptovechkin |
| Beach Home Apartments, Flat 04 | Cryptovechkin |
| Beach Home Apartments, Flat 03 | Cryptovechkin |
| Beach Home Apartments, Flat 02 | Cryptovechkin |
| Beach Home Apartments, Flat 01 | Cryptovechkin |
| Sunset Homes, Flat 24 | Cryptovechkin |
| Sunset Homes, Flat 23 | Runerino |
| Sunset Homes, Flat 22 | Byy |
| Sunset Homes, Flat 21 | Ultimate Healing |
| Sunset Homes, Flat 14 | Ultimate Healing |
| Sunset Homes, Flat 13 | Ultimate Healing |
| Sunset Homes, Flat 12 | KS System |
| Sunset Homes, Flat 11 | KS System |
| Sunset Homes, Flat 03 | KS System |
| Sunset Homes, Flat 02 | KS System |
| Sunset Homes, Flat 01 | KS System |
| Bloodhall | KS System |
| Dark Mansion | KS System |
| Halls of the Adventurers | KS System |
| Snake Tower | KS System |
| Spiritkeep | KS System |